Tuesday's Tip: Customers Seek Turnkey Applications From Their Technology Provider


Customers Expect Their Software Solutions To Be Turnkey

The recent Q2 2010 update to the Software Insider Vendor Selection Survey highlights some changing expectations of 401 respondents in the vendor selection process.  Business technologists were asked to rate their top 5 selection criteria.  Key findings demonstrate how functionality, ownership experience, and ecosystem feedback categories dominate the decision making process much more than market execution and corporate vision (see Figure 1).
Figure 1. Vendor Selection Criteria Reflect Core Insider Insights™ Categories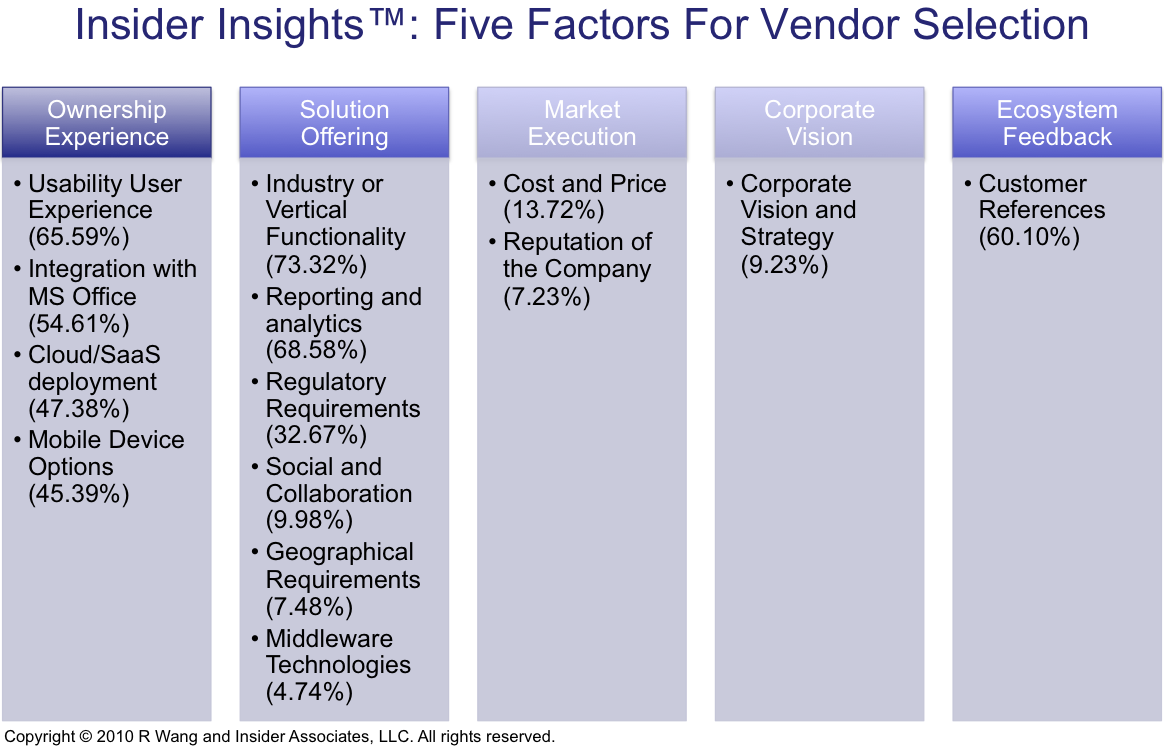 Major changes from the previous survey include a drop in priorities for Microsoft Office integration, regulatory requirements, and middleware technologies.  The main driver for a decrease in Microsoft Office integration from 83.38% (Q4 2009) to 54.61% (Q2 2010) stems from improved options delivered by vendors and Microsoft (See Figure 2).  Regulatory requirements dropped from 53% (Q4 2009) to 32.67% (Q2 2010) as key regulatory functionality met customer concerns.  Meanwhile, middleware technologies dropped as a key selection factor from 26.87% (Q2 2010) to 4.74% (Q2 2010) due to the decline in interest for SOA and related technologies.
Consequently, four of the five enterprise software mega-trends for 2010 (i.e. Social, Mobile, Cloud, Analytics, and Gaming) appear in the new survey results.  Analytics continues as the second most popular requirement.  Cloud deployments enter at (47.38%).  Mobile device options and form factors increase 8% from 37.40% (Q4 2009) to 45.39% (Q2 2010).  Social starts as a priority at 9.98% among respondents.
Figure 2.  Shifts From 2009 Reflect Focus on Turn Key Apps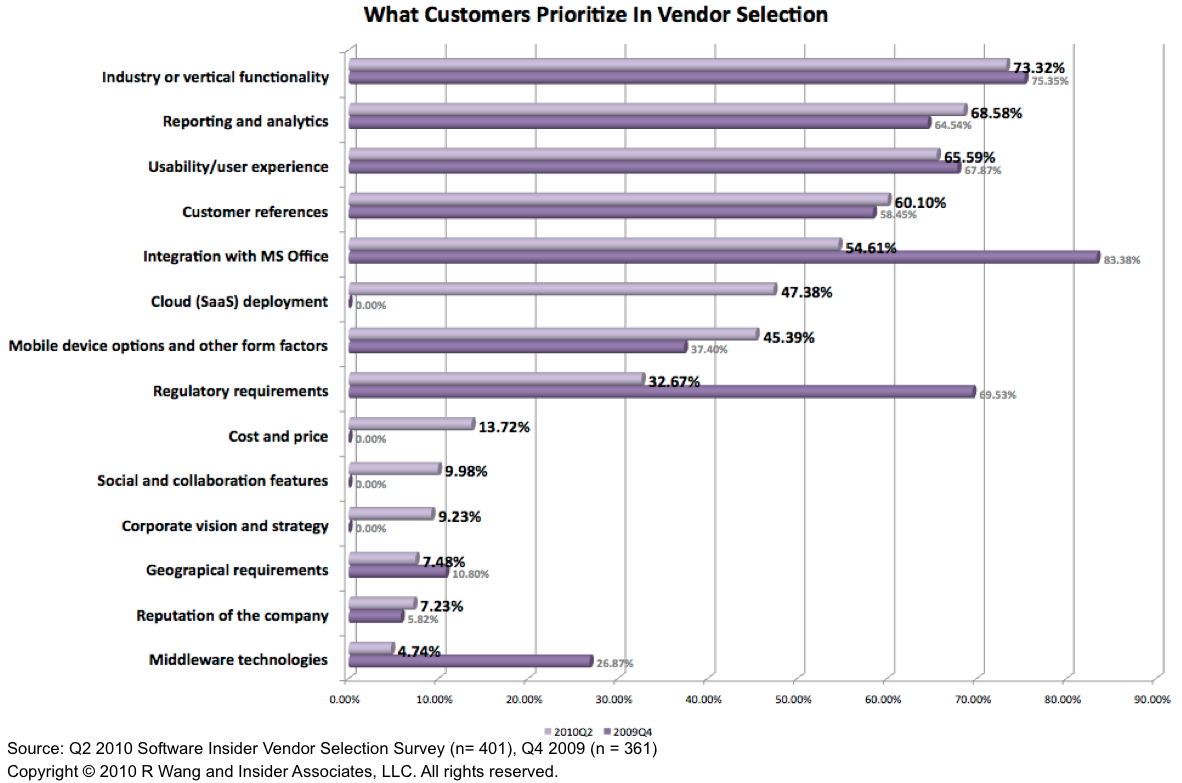 The Bottom Line For Buyers (Users) - Plan For The Five Mega Trends In Your Apps Strategy
Consumer advances in Web 2.0 continue to influence adoption, usage, and innovation in the enterprise software industry.  Future apps strategies must accommodate next gen requirements in Social, Mobile, Cloud, Analytics, and Gaming.  While Analytics and Mobile will drive the next 6 to 18 months, expect social business apps to gain in adoption over the next 18 to 24 months.  Gaming and the models used to drive forecasting and simulation will require skill sets in managing large data sets, minimizing data deluge, and require strong data quality (DQ) and master data management (MDM).  In the meantime, the key factors for business technology adoption will remain value to the stakeholders.
The Bottom Line For Sellers (Vendors) - Build Leverage Through Partner Ecosystems
The last mile requires solution providers to build force multipliers through partner ecosystems.  Cloud platforms allow new solution providers to innovate and deliver solutions in a SaaS offensive.  As the last mile becomes the last foot, partners will build the core competencies in business value chains, segmented by verticals, roles, geographies, and market sizes required to enhance the core solution.  The question shifts from how can you create an ecosystem that's attractive to partners not what ecosystem will you partner with?  Are you ready?
Your POV.
How are you prioritizing vendor selection?  Need help to incorporate mobile, social, or cloud into existing initiatives?  Have a success story to share?  Have a question to ask? You can post or send on to rwang0 at gmail dot com or r at softwareinsider dot org and we'll keep your anonymity.
Please let us know if you need help with your next gen apps strategy efforts.  Here's how we can help:
Developing a next gen apps strategy
Assessing apps strategies (e.g. single instance, two-tier ERP, upgrade, custom dev, packaged deployments)
Designing a perfect order process and system
Evaluating SaaS/Cloud integration strategies
Assisting with legacy ERP migration
Planning upgrades and migration
Performing vendor selection
Providing contract negotiations and software licensing support
Related resources and links
Reprints
Reprints can be purchased through the Software Insider brand.  To request official reprints in PDF format, please contact [email protected].
Disclosure
Although we work closely with many mega software vendors, we want you to trust us.  For the full disclosure policy please refer here.
Copyright © 2010 R Wang and Insider Associates, LLC. All rights reserved.