News Analysis: New HP Leadership Indicates Interest In Enterprise Software


Two Seasoned Software Veterans Join Hewlett-Packard
On September 30th, 2010, Hewlett-Packard (HP) announced two significant changes in its leadership structure.  Former SAP CEO Léo Apotheker was named as CEO; and Kleiner Perkins partner and former Oracle COO, Ray Lane was named as non-executive Chairman.  These two appointments signal a seriousness to shake things up for the better at HP because:
Cloud computing and consolidation forces hardware companies such as HP to seek higher margins. Most hardware vendors face single digit margins in their core business.  To bolster margins, many vendors acquired system integration and BPO firms.  For example, HP purchased EDS and Dell acquired Perot Systems.  The next logical step requires the hardware vendors to get into software (see Figure 1).  Software margins hover from 10% to 50% depending on the market.  Expect a hardware vendor such as Cisco, Dell, or HP to acquire a cloud based company such as Salesforce.com or Rackspace to move into the software business.  HP should go on the SaaS/Cloud offensive if they want to deliver rapid innovation to customers and break the cycle of dependence on packaged apps vendors such as Oracle and SAP.  HP can challenge Oracle through a complete cloud stack of SaaS, Paas, DaaS, and IaaS by investing in white spaces in the solution road map with verticals and other pivot points that have not been well served.  In addition, expect forms of SaaS BPO to emerge as clients seek best of breed SaaS and hybrid deployments.
Oracle's acquisition of Sun follows the 1970's IBM playbook and HP will compete with Oracle in the long run. Oracle's going after the "golden age of computing".  The impact -- the tech industry reverts back to the beginning of a 40 year innovation cycle.  For example, mainframe time sharing manifests as SaaS/Cloud.  AS/400 and integrated computing evolves into appliances or cloud in a box.  Oracle's strategy takes silicon to software and signals a need to deliver turnkey verticalized, integrated offerings.  Should HP continue to just serve in the commoditized infrastructure market, Oracle will beat HP in joint accounts for thought leadership and mind share.  Oracle's going after the high end server market and the verticalized appliances market.  HP must have something to offer business leaders other than faster, better, cheaper boxes.  Software solutions are admission to the party.  HP could and should partner more closely with SAP in the short term to double up and battle Oracle.



Apotheker and Lane bring software vision and leadership.

Léo bring global software experience, effective salesmanship, and a highly strategic point of view.  Ray Lane brings Silicon Valley credibility, long term vision, and wisdom sorely needed to the board.  HP needs to make acquisitions in software to take this to the next level.  Time is not on HP's side.  The core printer and ink business can be vulnerable and must be defended while making the play for enterprise software.
Figure 1. HP's Focus On Infrastructure and Services In The Software Insider Tech Ecosystem Model™ Highlight Need For Software Tools For Creation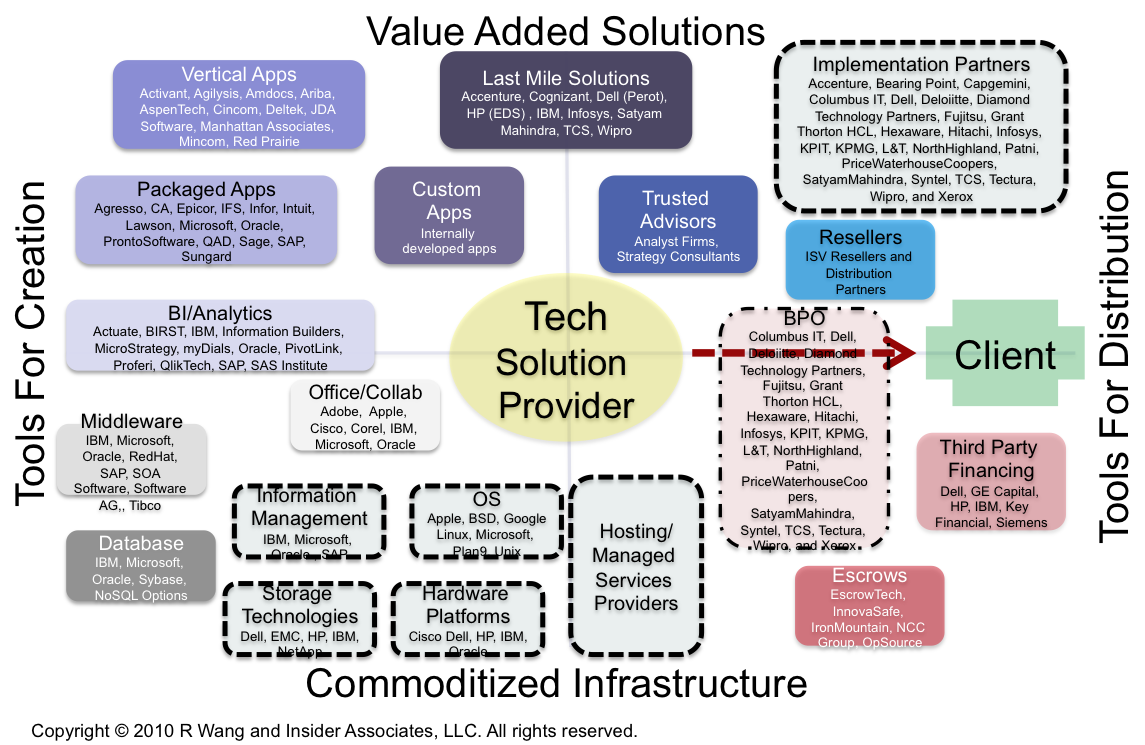 The Tech Ecosystem Model™ Provides Multi-dimensional Insights

The Software Insider Tech Ecosystem Model examines technology solution categories on 4 dimensions (see Figure 1):
Tools for creation. This category describes technologies that can be reused to create new solutions.
Tools for distribution. This category describes channels and distribution models to deliver client value.
Value added solutions. This category describes high margin, high value solutions for clients.  A plethora of vendors by industry, geography, market size, and role populate this category
Commoditized infrastructure. This category describes technologies that should be optimized.  A handful of vendors typically dominate this category.
The Bottom Line - HP Must Re-Invent Or Face Slow Death

HP has an opportunity to change the game before the market changes it.  Carly brought an acquisition vision but destroyed innovation.  Hurd brought operational efficiency and damaged R&D investment.  Apotheker and Lane have the opportunity to transform one of the world's great technology icons into a next generation provider.  With the five mega trends of our decade: cloud, social, mobile, analytics, and game theory in front of us, HP has many of the pieces to take the market on.   Strategy based on Sun Tzu's Art of War will require HP to reethink every aspect of its business from core offerings to key partnerships.  Bold leadership, a stronger acquisition strategy, and focused innovation can bring HP back from its current slow death.
Your POV.
Do you think Apotheker is the right choice?  Should they have brought Todd Bradley, Ann M. Livermore , Vyomesh Joshi from within or Steve Mills from IBM?  What's your view of HP right now?  You can post or send on to rwang0 at gmail dot com or r at softwareinsider dot org and we'll keep your anonymity.
How can we assist?
Buyers, do you need help with your apps strategy and vendor management strategy?  Trying to figure out how HP fits in your tech strategy? Ready to put the expertise of over 1000 software contract negotiations to work?  Give us a call!  Sellers and vendors, want to expedite your ability to effectively partner or test your M&A idea?
Please let us know if you need help with your next gen apps strategy efforts.  Here's how we can help:
Providing contract negotiations and software licensing support
Evaluating SaaS/Cloud options
Assessing apps strategies (e.g. single instance, two-tier ERP, upgrade, custom dev, packaged deployments"
Designing end to end processes and systems
Comparing SaaS/Cloud integration strategies
Assisting with legacy ERP migration
Engaging in an SCRM strategy
Planning upgrades and migration
Performing vendor selection
Related resources and links
Other Influencers and Media
Related Reports

Reprints
Reprints can be purchased through the Software Insider brand.  To request official reprints in PDF format, please contact [email protected].
Disclosure
Although we work closely with many mega software vendors, we want you to trust us.  For the full disclosure policy please refer here.
Copyright © 2010 R Wang and Insider Associates, LLC. All rights reserved.