Event Report: Oracle Open World 2010 - Beyond The Day 1 Hype


(Photo: Copyright © 2010 R Wang and Insider Associates, LLC. All rights reserved.)
Oracle Day 1 Focused On Showcasing Both Software And Hardware Prowess
The Day 1 keynote kick-off from Oracle's CEO, Larry Ellison, touched on the wide spectrum of Oracle's broad software and hardware portfolio.  Despite an over-emphasis on hardware and appliances, Oracle also pre-announced the launch of Fusion Applications.  A closer analysis of the announcements show:
Fusion Apps unveiled and announced for GA in Q1 2011. Joking about the length of time its taken since the halfway to fusion event on January 19, 2006, Larry Ellison finally announced the availability of Fusion Apps.  The seven products include Financial Management, Procurement and Sourcing, Human Capital Management (HCM), Customer Relationship Management (CRM), Supply Chain Management (SCM), Governance Risk and Compliance (GRC), and Project and Portfolio Management (PPM).  Oracle's engineering team built 20,000 objects, 10,000 business processes, and 100 modules from scratch (see Figure 1).  Fusion Applications meet 8 of the 10 criteria for next generation social enterprise applications. Oracle intends to target the best of breed SaaS products such as Concur, Salesforce.com, Success Factors, Taleo, and Workday.  At this point, no pricing information has been provided but Oracle has promised like to like upgrade parity for existing customers.

Point of View (POV): Fusion Apps highlight a new level of design.  The apps infuse Web 2.0 paradigms with enterprise class sensibilities.  Role based screens present relevant tasks, alerts, and analytics.  Adoption will depend on the customer's existing landscape.  Oracle customers generally fall into 3 categories: Die Hard Red Stack Believers, Best of Breed Customers By Accident, and Net New Greenfield.  Expect Net New Greenfields to consider the full Fusion App suites as they compare existing Apps Unlimited products and SAP.  Best of Breed Customers By Accident will most likely be drawn to the 100 modules to be delivered on demand and on premises.  Die Hard Red Stackers most likely have upgraded to the latest Fusion Middleware and will consider product replacements and module adoption.  Fusion Apps remains fairly horizontal and those customers with rich and stable vertical capabilities will most likely hold off for future releases.  Customers should keep an eye on the middleware pricing associated with Fusion Apps.
Figure 1.  Scenes From Oracle Open World And Screen Shots Of Fusion Apps
(Photo: Copyright © 2010 R Wang and Insider Associates, LLC. All rights reserved.)



Oracle Exalogic Elastic Cloud demonstrates one part of Oracle's Cloud appliance strategy.

The new Oracle Exalogic Elastic Cloud offering brings hardware and software together to run both Java and non-Java apps.  The system sports 64-bit x86 processors, open standards high speed InfiniBand-based communications links, solid-state storage, and Oracle WebLogic middleware.  The intent - provide a cloud in a box for customers seeking turnkey deployments.

POV: After hammering fellow competitor and friend Marc Benioff for not having a real cloud like Amazon, Larry Ellison likened Oracle's Exalogic Elastic Cloud (E2C) to Amazon's Elastic Compute Cloud (EC2).  With many flavors of cloud computing, users and buyers should understand the various flavors of cloud computing before making their own comparisons.  The main point - Oracle's E2C is a cloud in a box that can run other applications including Fusion Applications.  Attendees can expect part 2 of the Cloud strategy to take the On Demand route with applications delivery.  The result - a range of deployment options from on-premises, appliance, and on-demand.
Fork in Linux explicitly reflects Oracle's impatience with Red Hat. Oracle's Unbreakable Enterprise Kernel is part of the new Oracle Linux.  Oracle Linux builds off of the 2.6.32 mainline Linux kernel.  Internal tests show up to a 75 percent performance improvement in OLTP tests over Red Hat compatible Linux.  Existing customers have migration paths from Red Hat Linux to Oracle Linux.

Point of View (POV): Oracle takes Linux back into its own hands.  By supporting existing Red Hat code lines of Linux, Oracle preserves stability for current customers.  However, the go forward strategy will require all new Oracle apps to run exclusively on Oracle Linux.  These actions highlight how Oracle will not let others hold the vendor or its customers back from the pace of innovation.  However, vendors in Oracle's path should take note at how Oracle responds to those who stand in its path to progress.  Red Hat shareholders should remain nervous.
Oracle partner network (OPN) continues industry verticalization push. OPN Specialized, launched last year, now features 200 partners, 25,000 certified specialists, and 5000 implementation specialists.  These partners have added over 50 specialization options.

POV: Partners and customers have benefited from a distinct status program. OPN Specialized aligns partners to invest in a key competencies that will prepare them for the cloud and new appliance models.  As the vertical and micro-vertical footprint expands, the Oracle ecosystem gains influence.  Smart partners will develop a rich set of integration competencies as well as build out partner specific IP that can be deployed in both Oracle and non-Oracle customer bases.   Partners who build on the Oracle platform gain a time to market advantage but will increase their dependency on Oracle's stack.  Partners should take the SaaS offensive and preserve vendor choice for customers.


Figure 2. Oracle Goes After "The L" In The Software Insider Tech Ecosystem Model™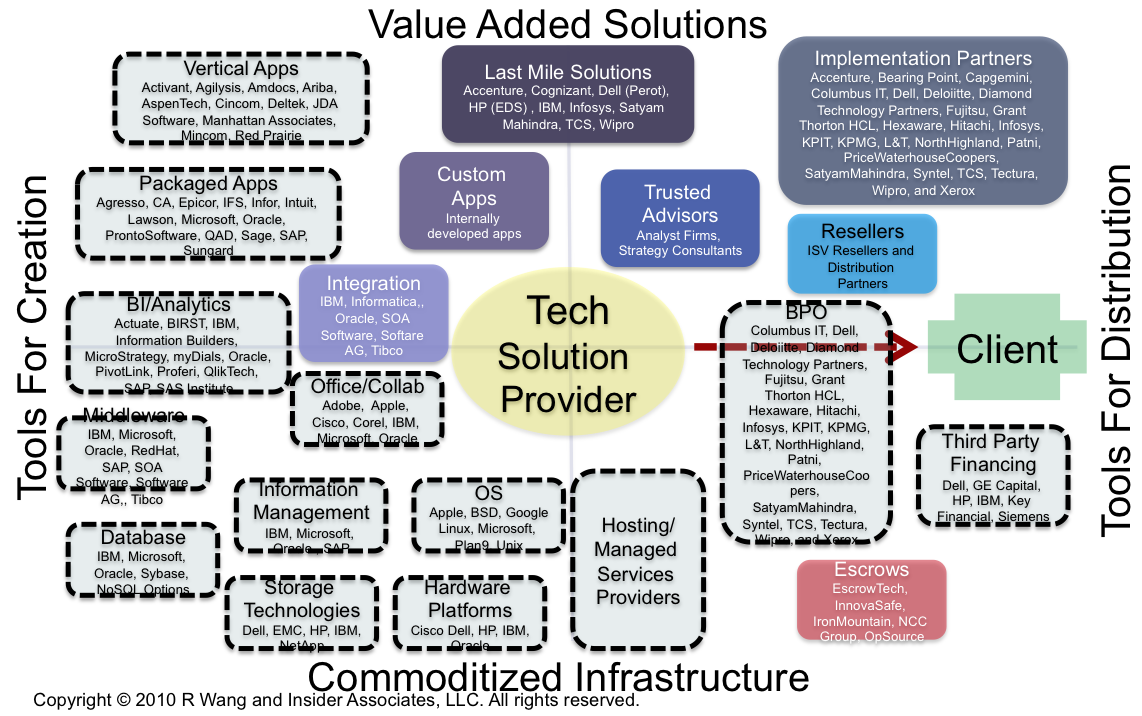 The Bottom Line For Buyers (Users) - Plan Out Your Long Term Oracle Strategy

Oracle intends to provide the full breadth of technology solutions and services to its customers and emerge as a key provider to many organizations.  As Oracle builds out its one-stop shop approach, clients should apply The Software Insider Tech Ecosystem Model™ in assessing where Oracle will play a role in the overall business technology footprint.  Concurrently, organizations must identify how other vendors can be used to keep leverage in future Oracle negotiations (Figure 2).  Customers and buyers should stay vigilant in building an apps strategy that allows for the cost savings of consolidation while keeping the flexibility to innovate.
The Bottom Line For Sellers (Vendors) - Oracle May Be Both Your Biggest Competitor And Partner

Oracle's intention to make a play for the full ecosystem offering provides customers with a short term opportunity for revenue growth.  Long term, partners must avoid investments that are within Oracle's 24 to 36 month acquisition cycle.  As Oracle continues its 60+ acquisition spree, competitors must determine the new alliances they will need to create to counter Oracle's Red Stack dominance.  In the software world, IBM and Microsoft must lead the counter alliance and to level the playing field of choice in the market.  Hardware and networking vendors such as Dell, HP, Cisco, and Juniper should reexamine their future strategy factoring the impact of the cloud and a "Hardware Software Complete" Oracle as the competitive design points.
Your POV.
Ready to buy from the Red Stack?  Do you feel Oracle has a sound strategy?  Are you afraid of the lock in?  Do you welcome the one-throat to choke? You can post or send on to rwang0 at gmail dot com or r at softwareinsider dot org and we'll keep your anonymity.
Please let us know if you need help with your next gen apps strategy efforts.  Here's how we can help:
Developing a next gen apps strategy
Assessing apps strategies (e.g. single instance, two-tier ERP, upgrade, custom dev, packaged deployments)
Designing a perfect order process and system
Evaluating SaaS/Cloud integration strategies
Assisting with legacy ERP migration
Planning upgrades and migration
Performing vendor selection
Providing contract negotiations and software licensing support
Related resources and links
Reprints
Reprints can be purchased through the Software Insider brand.  To request official reprints in PDF format, please contact [email protected]
Disclosure
Although we work closely with many mega software vendors, we want you to trust us.  Oracle is a client of Altimeter Group.  For the full disclosure policy please refer here.
Copyright © 2010 R Wang and Insider Associates, LLC. All rights reserved.