News Analysis: IBM Acquires MDM Leader Initiate Systems For Public Sector and Healthcare Prowess


IBM Adds A Leading Customer Data Integration/MDM Pioneer To Its Master Information Management Arsenal

With arguably 10 master information management acquisitions since 2003, IBM continues to push towards its goal of adaptive master data management (MDM) (see Figure 1).  The recent acquisition of Initiate Systems comes after the heals of Oracle's purchase of SilverCreek Systems in January 2010 and Informatica's purchase of Siperian in January 2010.  Rapid consolidation in the MDM market has effectively removed 3 of the 4 leading vendors in MDM.  The Initiate Systems acquisition brings IBM key benefits such as:
Strong and proven customer data integration platform. Initiate Systems brings best-in-class data de-duplication, security and privacy, and strong data acquisition capabilities to IBM.  A key hallmark of the solution is the rapid real-time matching capabilities and hierarchy management.  Among all the MDM vendors, Initiate brings the most number of productive, live customers - about 100 of its estimated 200 customer count.
Point of view (POV): As with rival Oracle, IBM must take steps to harmonize the different MDM solutions in its portfolio.  Today, IBM offers Infosphere MDM Server for PIM based on Trigo product information management (PIM) and Infosphere MDM Server 9 based on DWL for customer data integration (CDI).  Initiate Systems adds a third and capable product into the line up that's optimized for customer data.
Deep healthcare and public sector experience. Initiate Systems made its mark in health care and public sector.   Today, Initiate serves over 2400 health care sites and over 40 health information exchanges (HIE).  Key clients include Alberta Ministry of Health and Wellness, BMI Healthcare (UK), Calgary Health Region, CVS/Caremark, Humana, Ochsner Health System, the

State of North Dakota

's Department of Health and Human Services and the

University of Pittsburgh

Medical Center.  In the past years, the Chicago, IL based vendor has branched out to other verticals such as financial services, high-tech, manufacturing, and retail.  However, its gained the most ground in B2C public sector industries such as health care, law enforcement, governmental agencies, and intelligence.
POV: Expect IBM to augment Initiate's strengths with IBM's InfoSphere Identity Insight and InfoSphere Global Name Recognition to address the B2C public sector industries.   In health care, IBM Global Services already serves as a key reseller and this will ease the integration of this practice area into Big Blue.  Expect Initiate to continue its lead in EMPI and role in public sector projects.  Consequently, IBM will have to address how they will work with rival partners such as Raytheon, Informatica, Carefx, Healthvision, Agfa, and dbMotion.
Strong management team. Bill Conroy (CEO) and his capable management team drove an estimated $100M in revenues with a 4 year CAGR of 50% and zero debt. On top of this, they secured a $31M Series E round of funding from EMC, Informatica, Dunruth Capital, BCBS Capital, and Paladin Capital.
POV: With arguably one of the most capable management teams in the industry and one of the sharpest sales minds, Greg Shaw, IBM adds some key assets to its management ranks.  How they navigate the Big Blue bureaucracy will be a test of how well IBM conducts integrations of high performing companies.  Given the improved collaboration culture within IBM Software Group and the rest of IBM, the future bodes well.
Figure 1. IBM's MDM Acquisition Road Map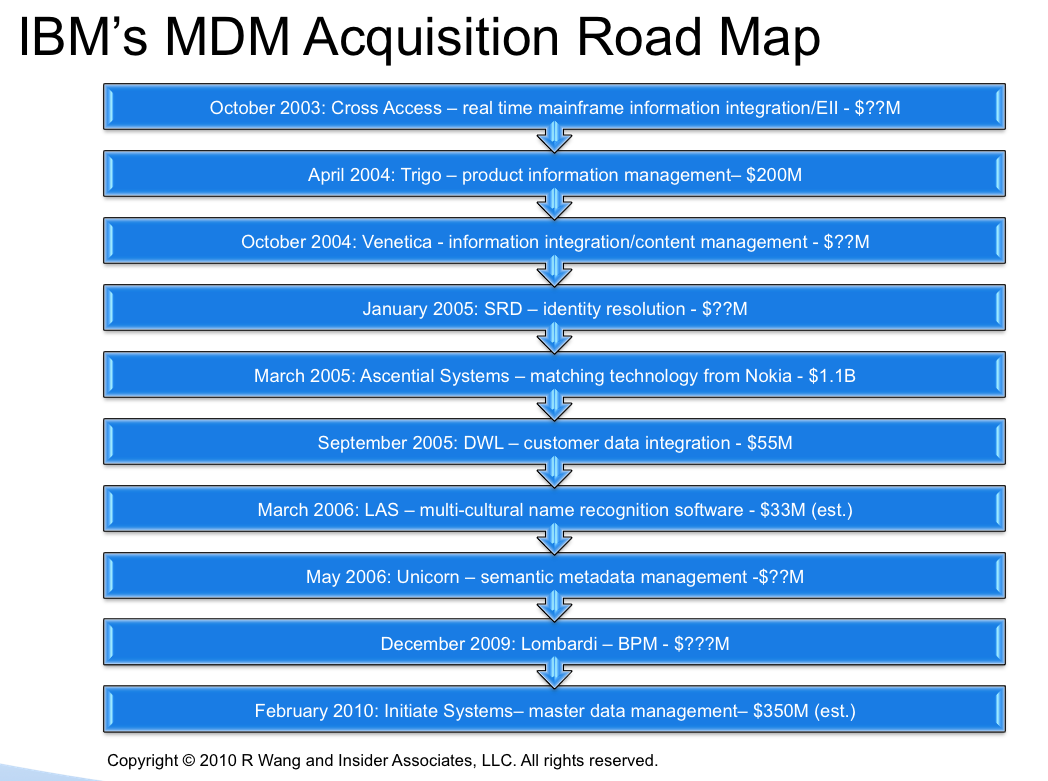 The Bottom Line For Users - IBM Brings Stability To Initiate's Customers And Adds A Series Of Big Blue Capabilities

Initiate customers gain access to the assets of IBM.  Customers can expect IBM to integrate the product line over 2 years but benefit immediately from synergies with other IBM Information Management products such as its knowledge base of industry models, governance, BI & performance management tools, and identity and management tools.  As with most IBM acquisitions, key personnel in product development, support, and sales will be incentivized to stay for at least 2 years, providing enough time for knowledge transfer and account transitions.  In general, non-IBM customers will gain new resources.  Existing IBM customers will find business as usual.


The Bottom Line For Vendors - MDM Moves From Best Of Breed To Foundational Software Stack Component

Given the foundational nature of MDM in any vendor's software stack, expect more rapid consolidation in the MDM market with very few independents by the end of 2010.  Potential acquirers include EMC, HP, IBM, Microsoft, Oracle, and SAP.  Potential targets for EMC, SAP, and HP include Datactics, Kalido, Talend, and Visionware.   With Initiate Systems in IBM's hands,  Microsoft's most likely target would be VisionWare or Kalido as they are the only two vendors optimized on the Microsoft stack.  SAP, EMC, and HP may be better off looking at Kalido for its strong pharma, insurance, and data governance capabilities for MDM.  MDM will move more and more vertical as domain specific issues become paramount.