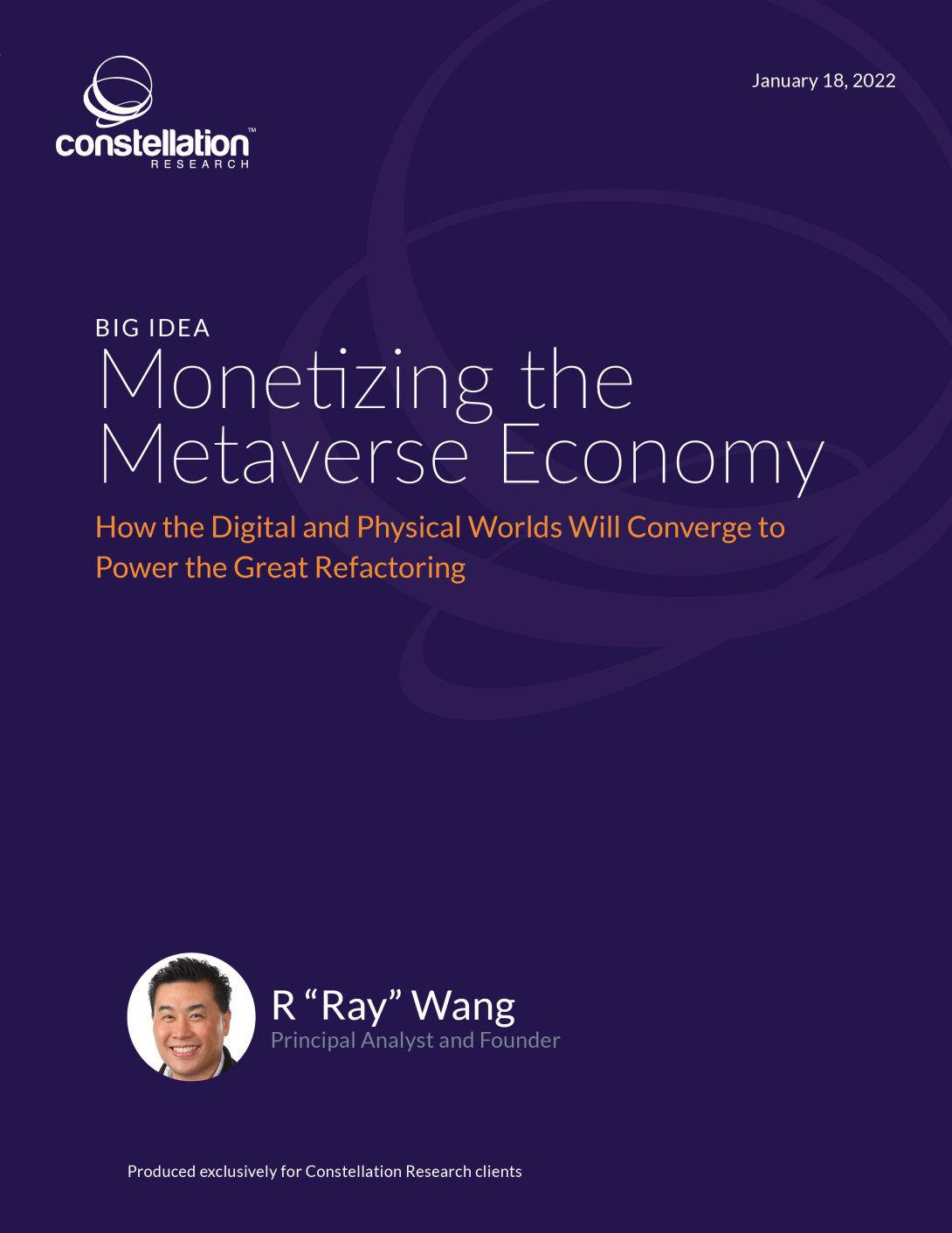 Research Report: Monetizing The Metaverse Economy
Enterprises Get Ready To Monetize The Metaverse Economy
Much hype has been made about the metaverse. However, very few organizations have fully grasped the impact the metaverse will have on experiences and engagement inside the enterprise. More than just gaming worlds or hardware devices, the metaverse economy brings new opportunities for enterprises to bring their physical presence and 3D digital presences together in one unified offering to their stakeholders—customers, employees, partners, and suppliers.
This Big Idea report discusses what the metaverse economy will achieve, presents the layers of the metaverse economy, suggests several enterprise use cases, and names some of today's early players in the market. Constellation has identified 43 enterprise use cases that focus on engagement and experiences to support the future of work, employee experience, customer experience, and commerce. Furthermore, Constellation predicts that advances in the metaverse economy will provide a critical element of the "Great Refactoring" ahead and a $21.7 trillion market by 2030.
To access the report: go to the Constellation website
Your POV
Are you ready to monetize the metaverse? Do you have a digital transformation agenda that needs to address the Great Refactoring? Do you know the 43 use cases to get started with?
Add your comments to the blog or reach me via email: R (at) ConstellationR (dot) com or R (at) SoftwareInsider (dot) org. Please let us know if you need help with your strategy efforts. Here's how we can assist:
Developing your metaverse and digital business strategy
Connecting with other pioneers
Sharing best practices
Vendor selection
Implementation partner selection
Providing contract negotiations and software licensing support
Demystifying software licensing
Reprints can be purchased through Constellation Research, Inc. To request official reprints in PDF format, please contact Sales.
Disclosures
Although we work closely with many mega software vendors, we want you to trust us. For the full disclosure policy,stay tuned for the full client list on the Constellation Research website. * Not responsible for any factual errors or omissions.  However, happy to correct any errors upon email receipt.
Constellation Research recommends that readers consult a stock professional for their investment guidance. Investors should understand the potential conflicts of interest analysts might face. Constellation does not underwrite or own the securities of the companies the analysts cover. Analysts themselves sometimes own stocks in the companies they cover—either directly or indirectly, such as through employee stock-purchase pools in which they and their colleagues participate. As a general matter, investors should not rely solely on an analyst's recommendation when deciding whether to buy, hold, or sell a stock. Instead, they should also do their own research—such as reading the prospectus for new companies or for public companies, the quarterly and annual reports filed with the SEC—to confirm whether a particular investment is appropriate for them in light of their individual financial circumstances.
Copyright © 2001 – 2022 R Wang and Insider Associates, LLC All rights reserved.
Contact the Sales team to purchase this report on a a la carte basis or join the Constellation Executive Network