News Analysis: Apple Business Essentials Simplifies SMB Ownership Experience
Apple Launches New Business Essentials Service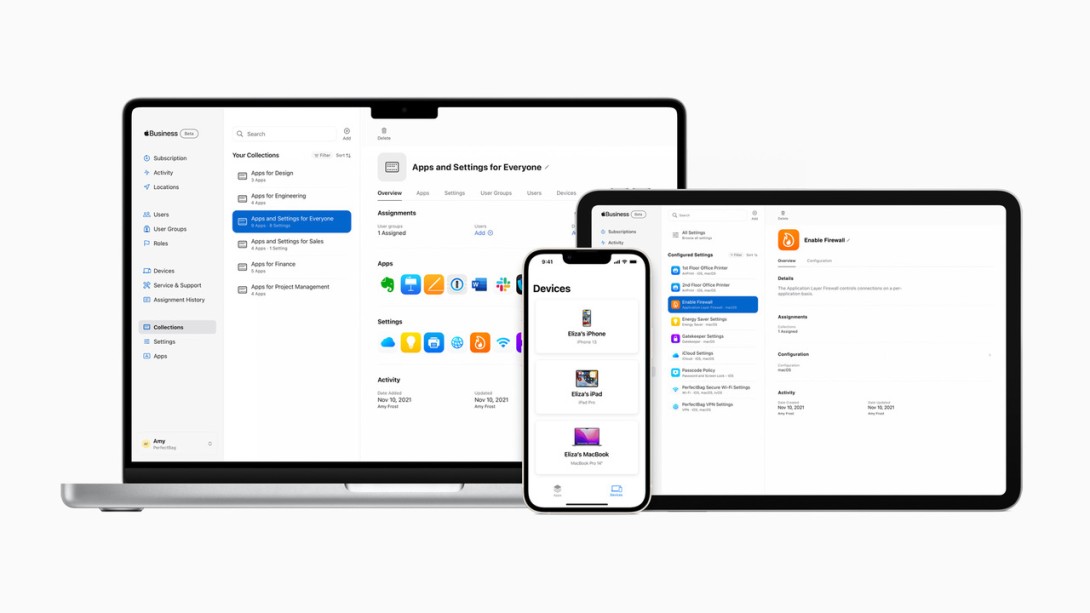 Source: Apple
On Wednesday, November 10th, Apple introduced a new business service for companies up to 500 employees. Apple Business Essentials enables organizations to easily add users, onboard users, back up information, secure devices, receive 24/7 support, repair devices onsite, and manage the device lifecycle for deployment.
A new feature known as Collections enables easy configuration of settings and apps for the Individual user, group, and/or device level. Further, IT personnel can automatically push Wifi passwords, VPN settings, and make downloaded apps available to employees who sign in to a personally owned or corporate devices.  As a result, this new service makes it possible for organizations to enforce security policies and critical security settings such full-disk encryption, privacy of personal and work data, and the ability to lock out lost or stolen devices. In conversations with technology executives with Apple shops, they are looking forward to the 4-hour or less onsite repair capabilities starting with the iPhone.
Apple is offering three Business Essentials plans that vary by number of devices and amount of storage (see Figure 1).  Organizations can also add optional AppleCare+ to their existing plans.
Figure 1. Three Levels Of Apple Business Essentials Pricing Reflect Usage Based and User Based Pricing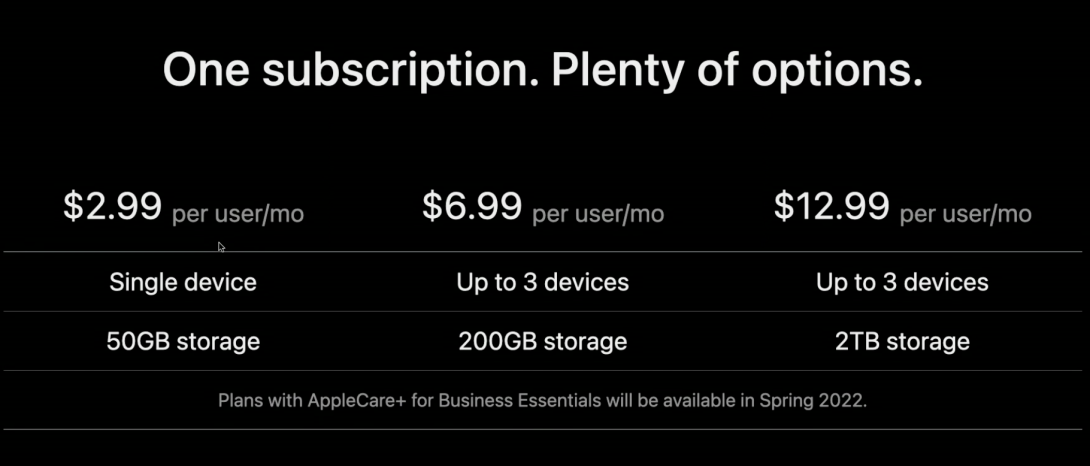 The Bottom Line: Apple Just Made Managing And Securing Devices Much Easier For SMBs
Technology executives in the mid-market face constrained staffing and seek ease of use in adding and on-boarding users and devices; while enabling flexible technology choices amidst growing security threats.  The Apple Business Essentials service offering makes it easy to allow SMBs to scale. 
Your POV
Will you sign up for Apple Business Essentials to manage your Apple devices in the enterprise? Will this improve your ability to onboard employees and manage devices?
Add your comments to the blog or reach me via email: R (at) ConstellationR (dot) com or R (at) SoftwareInsider (dot) org. Please let us know if you need help with your AI Digital Business transformation, and commerce platform efforts. Here's how we can assist:
Developing your digital business strategy
Connecting with other pioneers
Sharing best practices
Vendor selection
Implementation partner selection
Providing contract negotiations and software licensing support
Demystifying software licensing
Reprints can be purchased through Constellation Research, Inc. To request official reprints in PDF format, please contact Sales.
Disclosures
Although we work closely with many mega software vendors, we want you to trust us. For the full disclosure policy,stay tuned for the full client list on the Constellation Research website. * Not responsible for any factual errors or omissions.  However, happy to correct any errors upon email receipt.
Constellation Research recommends that readers consult a stock professional for their investment guidance. Investors should understand the potential conflicts of interest analysts might face. Constellation does not underwrite or own the securities of the companies the analysts cover. Analysts themselves sometimes own stocks in the companies they cover—either directly or indirectly, such as through employee stock-purchase pools in which they and their colleagues participate. As a general matter, investors should not rely solely on an analyst's recommendation when deciding whether to buy, hold, or sell a stock. Instead, they should also do their own research—such as reading the prospectus for new companies or for public companies, the quarterly and annual reports filed with the SEC—to confirm whether a particular investment is appropriate for them in light of their individual financial circumstances.
Copyright © 2001 – 2021 R Wang and Insider Associates, LLC All rights reserved.
Contact the Sales team to purchase this report on a a la carte basis or join the Constellation Executive Network