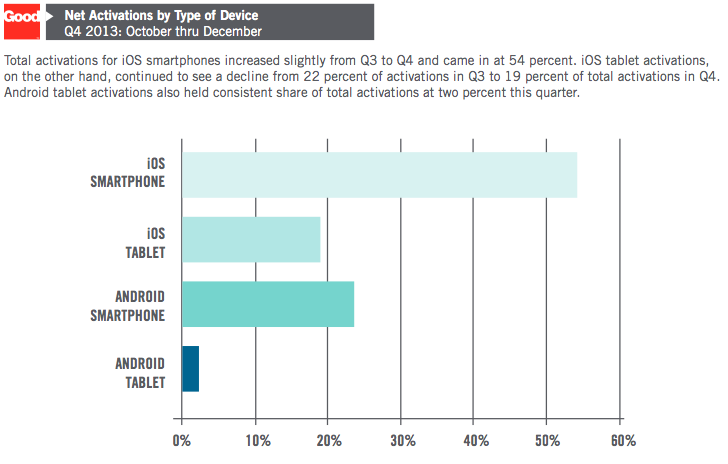 Quips: Good Technology Data Validates That Apple iOS Is Still King of Enterprise Class Mobile in The US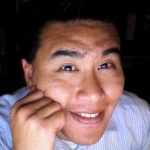 Apple Grows In Net Activations In Q4 As Well As Overall
The February 12th, 2014 Good Technology Mobility Index report validates what many North American based enterprises know - Apple iOS is dominating Google Android inside the enterprise in the US markets.   While this data is limited to the Good Technology customer base, which has a strong US following, anecdotal inquires and formal polling by Constellation Research, Inc. validate that this data is directionally accurate.  Here are three graphics that illustrate the point:
Net Activations By Type of Device Show iOS up in Smart Phone and Tablets While Android Drops
Apple Dominates Tablet Activations At 91.4% vs Google Android's 8.6%
The Bottom Line: Google Android May Be Falling Out Of Favor In The Enterprise
Despite a higher cost of device, Constellation Research sees many US based organizations choosing Apple iOS vs Google Android.  Further, the BYOD movement still shows that enterprise users sees Apple as the enterprise class option despite the consumer traction in Android.  Constellation identifies three trends why iOS is preferred over Android in the US:
Memories of BlackBerry haunt enterprise mobility. Leaders have no tolerance for the ever proliferating Android code fragmentation and device support requirements.  As with Research In Motion, the need to certify by carrier, device, and flavor of OS is seen as too big a hassle.
Restrictions on customization may be a good thing. While one would find this to be a negative factor, the overall out of the box capabilities meet the 80/20 rule.  The wide variety in Android has many organizations confused and the ability to side load bad apps has the powers at be worried.
Perceptions of enterprise class user experience remains with Apple. Despite increasing sales on the consumer side for Android devices, the enterprise treats Apple as the professional grade iOS.  The bugginess of Android apps and the OS in general outweigh the gimicky features found in many Android tablets and phones.
Your POV.
Are you looking at a mobile strategy? Do you see the link between mobility and digital business?  Are you an Android or Windows shop?  Will you stay or switch?  Do you disagree with the Apple iOS analysis?  Add your comments to the blog or reach me via email: R (at) ConstellationR (dot) com or R (at) SoftwareInsider (dot) com.
Please let us know if you need help with your mobility and Digital Business transformation efforts.  Here's how we can assist:
Assessing mobile readiness
Developing your digital business strategy
Vendor selection
Implementation partner selection
Connecting with other pioneers
Sharing best practices
Designing a next gen apps strategy
Providing contract negotiations and software licensing support
Demystifying software licensing
Related Resources
Reprints
Reprints can be purchased through Constellation Research, Inc. To request official reprints in PDF format, please contact Sales .
Disclosure
Although we work closely with many mega software vendors, we want you to trust us. For the full disclosure policy, stay tuned for the full client list on the Constellation Research website.
* Not responsible for any factual errors or omissions.  However, happy to correct any errors upon email receipt.
Copyright © 2001 – 2014 R Wang and Insider Associates, LLC All rights reserved.
Contact the Sales team to purchase this report on a a la carte basis or join the Constellation Customer Experience!