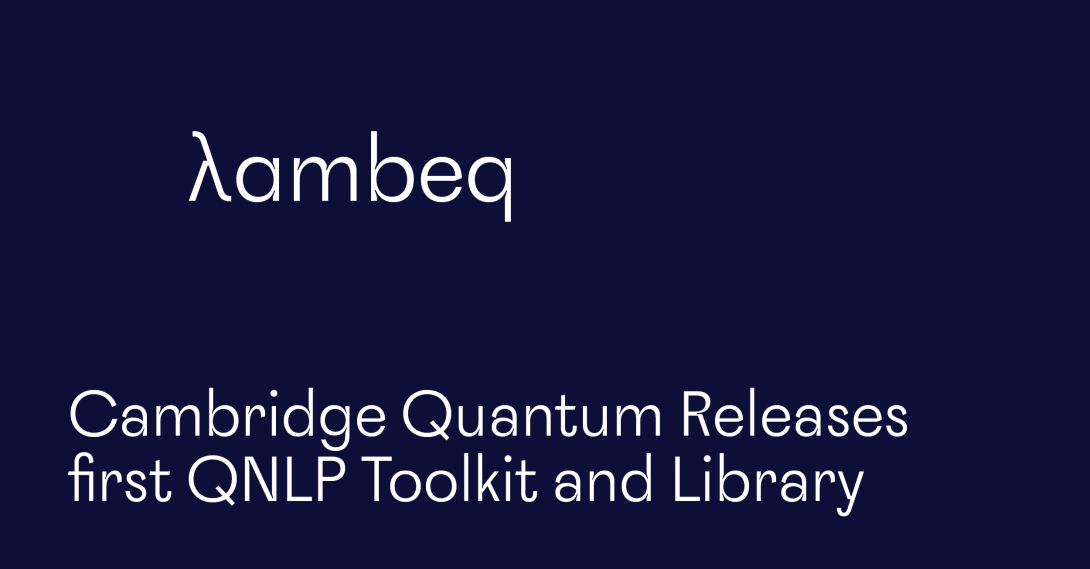 News Analysis: Cambridge Quantum Brings On Quantum NLP To Life
CQ Is First To NLP On Quantum Via The lambeq Toolkit
On October 13th, Cambridge Quantum released lambeq, an open-source toolkit and library for Natural Language Processing on Quantum (QNLP), named after Joachim Lambek, the late pioneering McGill University professor in mathematics and theoretical computer science.  This breakthrough achievement is a quantum computing first.  lambeq allows the creation of language translation, language creation, text mining, text to speech, automated dialogs and more.  Sentences are converted to quantum circuits using QNLP on quantum hardware.
Anyone with an interest in NLP, and all users of the open source TKET, CQ's quantum software development platform. as well as any other quantum computing platforms such as qiskit can easily use lambeq on hardware such as Honyewell Quantum Solutions' trapped-ion H series or IBM superconducting quantum computers.  The open source nature of lambeq enables Anyone can access the Python repository of lambeq in Github
The Bottom Line: Cambridge Quantum's QNLP Makes NLP On Quantum Accessible
While the current offering is still in beta, the availability of QNLP provides early adopters with access to apply advanced QNLP techniques in large production environments.  Expect researchers to gain the expertise to move from theory to practical real-world NLP applications in years instead of decades.  This quantum first development is a significant milestone in this early history of quantum computing.
Your POV
Are you exploring Quantum Computing? Do you see the use cases for QNLP?
Add your comments to the blog or reach me via email: R (at) ConstellationR (dot) com or R (at) SoftwareInsider (dot) org. Please let us know if you need help with your AI Digital Business transformation, and quantum computing efforts. Here's how we can assist:
Developing your digital business strategy
Connecting with other pioneers
Sharing best practices
Vendor selection
Implementation partner selection
Providing contract negotiations and software licensing support
Demystifying software licensing
Reprints can be purchased through Constellation Research, Inc. To request official reprints in PDF format, please contact Sales.
Disclosures
Although we work closely with many mega software vendors, we want you to trust us. For the full disclosure policy,stay tuned for the full client list on the Constellation Research website. * Not responsible for any factual errors or omissions.  However, happy to correct any errors upon email receipt.
Constellation Research recommends that readers consult a stock professional for their investment guidance. Investors should understand the potential conflicts of interest analysts might face. Constellation does not underwrite or own the securities of the companies the analysts cover. Analysts themselves sometimes own stocks in the companies they cover—either directly or indirectly, such as through employee stock-purchase pools in which they and their colleagues participate. As a general matter, investors should not rely solely on an analyst's recommendation when deciding whether to buy, hold, or sell a stock. Instead, they should also do their own research—such as reading the prospectus for new companies or for public companies, the quarterly and annual reports filed with the SEC—to confirm whether a particular investment is appropriate for them in light of their individual financial circumstances.
Copyright © 2001 – 2021 R Wang and Insider Associates, LLC All rights reserved.
Contact the Sales team to purchase this report on a a la carte basis or join the Constellation Executive Network