Event Report: Oracle Open World Day 1- The Word On The Street Report


Day 1 Brings 40,000 Oracle Faithful Into San Francisco For Red Stack Indoctrination

(Source: R Wang & Software Insider POV, Copyright © 2009  All rights reserved.)
Interesting tidbits from Day 1 include:
Oracle tells SaaS providers they can use a new SaaS/Cloud computing model to purchase a limited number of Oracle products in a "pay as you grow" manner.
Attendees propagating rumors about Fusion Apps being announced on Wednesday in Larry's keynote.
Customers discussing how Oracle now leads CRM sales with CRM OnDemand before any other on-premise product.
Dell confirmed to be selling SalesForce.com products in the SMB channel.
EBS customers who have upgraded to 12.1 still having a tough time getting the new account and multi-org structures down right.  Many system integrators suggest that its best to do a reimplementation.
PeopleSoft customers buzzing about the new 9.1 release.
Oracle waiting for Sun deal to close to make next set of acquisition.  Charles Phillips tells partners, there's more to buy.
The roving Rimini Street billboard is back!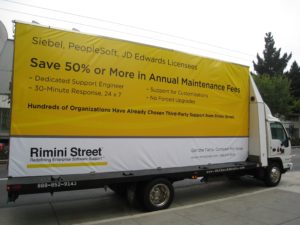 Your POV.
We'll be roving around asking some questions during Open World.  If you get a chance, let us know:
Which Oracle products do you use?
What release of Oracle DB are you on? When will you migrate?
Are you using Oracle BI Tools with non-Oracle data? or vice versa?
Do you use RAC? Do you use RAC? Do you know about Exadata and would you consider it?
When will you consider Fusion Apps?
Is the delay in Fusion Apps, affecting your timing for software upgrades?
Are recent maintenance price hikes having an impact?
When do you plan to adopt Fusion Middleware?
How much will Fusion cost you in reimplementations?
Feel free to post your comments here or send me an email at rwang0 at gmail dot com or r at softwareinsider dot org.
Copyright © 2009 R Wang. All rights reserved.